Resources for Parents and Students
Please download and share these helpful resource lists for parents and students.  Links are included for many great educational and other online resources.  Information includes educational websites for all ages, food assistance, COVID-19 information, mental health services, utilities, driver services, credit cards, mortgage/rental assistance, and more.
---
Pennsylvania 2-1-1 Northwest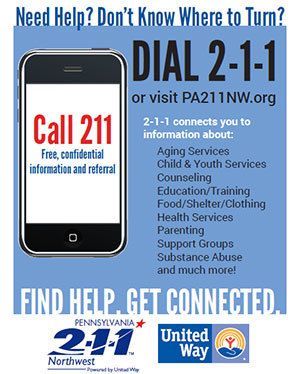 PA 2-1-1 Northwest is part of the national 2 1 1 Call Centers initiative that seeks to provide an easy-to-remember telephone number, chat, text, and a web resource for finding health and human services– for everyday needs and in crisis situations.
PA 2-1-1 Northwest is brought to you by a partnership among local United Way organizations, local county government, and human service providers in the Northwest region, along with PA 2-1-1, and United Way of Pennsylvania.
Every day, highly trained 2‑1‑1 call specialists provide referrals to:
Basic Human Needs Resources: food banks, shelters, rent and utility payment assistance
Physical and Mental Health Resources: crisis intervention services, support groups, counseling
Employment Support: financial assistance, job training, education programs
Support for Older Adults and Persons with Disabilities: home-delivered meals, transportation, health care
Youth and Child Care Programs: after school programs, summer camps, mentoring, protection services
Regional Disaster Preparation
Those who contact 2-1-1 gain free, confidential access to thousands of programs and services that can help improve the quality of their lives. Help is available by calling 2 1 1. TTY and language services are available in more than 170 languages and dialects. 2-1-1 can also be reached by texting your zip code to 898-211 or chatting with a 2-1-1 specialist through the website. Resources are also available through the website 24 hours a day, seven days a week (http://pa211nw.org)
---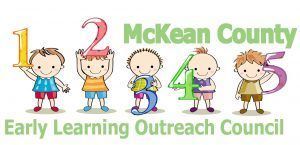 Child Care and Early Learning Resources in McKean County
For information on where to find child care, preschool, and other early learning programs in McKean County, click here.
---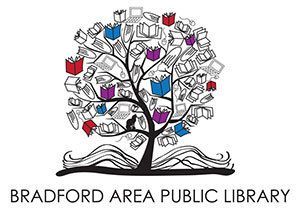 Parent Resource Collection at the Bradford Area Public Library
CARE for Children partnered with the Bradford Area Public Library in 2010 to offer the Parent Resource Center, a collection of childhood development, support and disability-specific resources for parents/caregivers in the local community.  The Parent Resource Center was funded in part by a Community Innovations grant from the United Way of the Bradford Area, as well as by several donations from the Kiwanis Club of Bradford to expand CARE's collection of disability specific resource books.