Ashley Booth Griffin CARE for Children Center
The Building Project
Because of unprecedented organizational growth, in 2006 the board of directors and key staff set forth a strategic five-year plan to buy and renovate a property, or construct a new facility.  CARE purchased the property at 723 East Main Street in 2009, the property was within 200 yards of their leased offices at 20 Russell Boulevard in Bradford.  In 2011, architect Rick Larson and his team from R.W. Larson & Associates began the design phase. In June, 2012, Bob Cummins Construction Company was awarded the general contracting bid.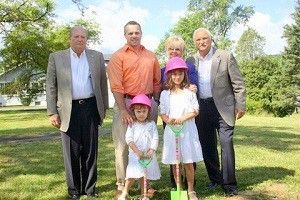 On May 7th, 2012, CARE for Children launched the public phase of its 'Building Campaign for the Future of Children of All Abilities' to support the construction of the organization's nearly-10,000 square-foot facility at 723 East Main Street in Bradford, Pennsylvania.
With a lead gift of $1,000,000 from Zippo Manufacturing Company, Owner and Chairman of the Board, George W. Duke secured the naming rights of the facility, which is named for Ashley Booth Griffin, who tragically lost her life in an automobile accident in 2008.
Calling it a "divine inspiration", Mr. Duke saw this as the perfect opportunity to bring attention to CARE, and to honor Ashley's memory.
Ashley's parents, Zippo President and Chief Executive Officer, Greg Booth and his wife Cherie, were "floored, thrilled, blessed beyond comprehension that something like this would come out of the tragedy of losing our beautiful Ashley" and they take great comfort in knowing that her daughters, Jaden and Tayga, will proudly remember their "mommy" through the facility that bears her name and serves children such as themselves.
The new facility officially broke ground on June, 25th, 2012.  Construction took approximately 11 months.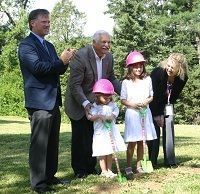 Building Dedication - May 2013
Aaron Griffin dedicated the Ashley Booth Griffin CARE for Children Center with a quote which had special significance for his wife Ashley and had even hung on a plaque in their kitchen: "Life is not measured by the number of breaths you take but by the moments that take your breath away."
For staff and supporters of CARE for Children and for everyone who knew and loved Ashley, May 17th, 2013 marked one such breathtaking moment as the Ashley Booth Griffin CARE for Children Center was dedicated in a public ceremony, attended by over 130 guests.
The dedication marked the culmination of a six year building project by the non-profit organization to realize the dream of a facility which would provide a permanent home for the almost 90 year old organization; increase its visibility in the community; and be a community, therapy, and early learning center for children of all abilities.
As each speaker stood at the podium in front of the new building at 723 East Main Street, it was apparent it was a bittersweet day for Ashley's family and friends. Her father Greg Booth remarked, "Today we remember Ashley for who she was: a daughter, a wife, a mother, a sister, a niece, a cousin and a friend, a beautiful young woman who loved life, loved the Lord, and loved and cared deeply about children. She was tragically taken from us way too early."
"The Booth and Griffin families appreciate and will be forever grateful for the honor that was bestowed on our beautiful Ashley today… an honor that will live on for decades to come," said Booth.
George Duke, owner and chairman of the board of Zippo Manufacturing Company remarked, "Zippo has given a lot of donations over many years, but I would have to say this particular project has really touched my heart maybe the most. To recognize and memorialize Ashley with this center touches me deeply."
"George Duke, Zippo, and the entire  community has a long history of an incredible level of generosity, and we thank you and recognize all our donors and friends for your support of CARE for Children," said Mick Marshall, President of the Board of Directors. "CARE has grown since 1924 from providing very distinct services for children with disabilities into a children's service agency that wants to help those we serve reach their potential. Through a culture of inclusion — the focus on ability, the idea that quality early learning is the key to future success, and the promotion of quality of life programs that are an extension of our core services of pediatric therapy — CARE has grown to meet the needs of local children. The completion of the Ashley Booth Griffin CARE for Children Center is not the culmination of our goals but the beginning of a new era at CARE."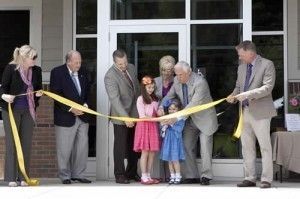 The official dedication was book-ended by a reception on Thursday evening, May 16th, attended by 160 donors and supporters, who were treated to tours of the new building. A special children's dedication, attended by 69 children and 52 adults, was held on Saturday, May 18th and featured crafts, games, an obstacle course, a clown, and giveaways of safety items such as bike helmets and reflectors.
Pictured Center: Ashley's daughters, Jaden, age 9, and Tayga, age 5, along with their dad, Aaron Griffin, and grandparents, Greg and Cherie Booth cut the ribbon, with George Duke looking on, and executive director, Tina Martin and Board President, Mick Marshall holding the ribbon, to officially open the Ashley Booth Griffin CARE for Children Center.
The Vision for the Ashley Booth Griffin CARE for Children Center
The vision for the Ashley Booth Griffin CARE for Children Center encompasses the need for CARE to emphasize service delivery by our commitment to pediatric program expansion and accessibility; and continue to strengthen the identity of the organization by making it a constant presence and enduring asset for the entire community. More than just a permanent home for CARE, the Ashley Booth Griffin CARE for Children Center strives to meet the ever-changing treatment, therapy and early learning needs for children of all abilities and their families.
Ashley Booth Griffin Care for Children Center Tour - Interior
Ashley Booth Griffin Care for Children Center Tour - Exterior