Early Intervention
"Every child grows and learns new skills at his or her own pace.  Children can vary in skills and development. Parents know their child better than anyone else. If you have concerns about your child's development, Early Intervention can help."    (Watch Me Grow, Pennsylvania Early Intervention Program).
CARE for Children is an Early Intervention provider in McKean, Potter and Forest-Warren Counties.
Children may receive one or multiple interventions, services are part of a coordinated, multidisciplinary program.
Services are provided as part of the child's Individualized Family Service Plan (IFSP) through a family-centered care philosophy. The goal is to support families in promoting their children's development, learning, and participation in family and community life. Services are provided in the child's natural setting. If you're unsure about whether your child is meeting age appropriate developmental levels, read the section below about CARE's developmental milestones.
The Role of Therapists
Physical therapists focus specifically on motor skills, self-care function, and the utilization of adaptive equipment. Physical therapists use their knowledge and skills specifically related to motor and self-care function, assistive technology, and adaptive equipment.
Occupational therapists help improve children's motor, cognitive, sensory processing, communication, and play skills. Occupational therapists focus on a child's ability to perform self-care routines (feeding, dressing), play skills (manipulating objects/toys), oral skills (sucking, swallowing, and chewing) and social skills (playing, following directions).  Occupational therapists assess the need for adaptive equipment, modified techniques, and developmental training in all areas and address sensory processing difficulties.
Special Instructors/Developmentalists evaluate cognitive processes, behavioral concerns and socio-emotional characteristics and interactions. They implement and/or modify environments and choose appropriate play activities to support learning in the framework of the family's daily routines.
Speech-Language Pathologists work on speech, language and communication skills and are qualified to address delays and disabilities in communication, language, speech, emergent literacy, and feeding/swallowing. The development of communication skills begins at birth.  Communication provides the building blocks for learning and social interaction.
Social Workers can join the Early Intervention team to support a family in many ways. Services provided by a social worker are adapted to each family's situation; and can include emotional support, identifying and coordinating community resources, parent education, counseling and crisis intervention.
Social Workers are available to support the needs of the parent as well as the child and to work with the family to make sure that they have the resources to continue their daily routines.  If your child receives Early Intervention services and you believe you would benefit from the services of an Early Intervention Social Worker, speak to your Service Coordinator.
Collaboration
Early Intervention is collaboration by a team which works with the family to integrate interventions into everyday routines, activities, locations and exchanging information. The goal is to enhance development, minimize the potential for developmental delay, and help families to meet the special needs of their infants and toddlers.
How do I receive services for my child?
If you have concerns regarding your child's development call your pediatrician for a referral or your county provider for a free screening and/or evaluation.
Early Intervention in Pennsylvania Statewide CONNECT Line
1-800-692-7288  www.connectpa.net
Early Intervention- Infant-Toddler (birth up to age three)
Preschool Early Intervention
McKean, Potter, Elk and Cameron Counties: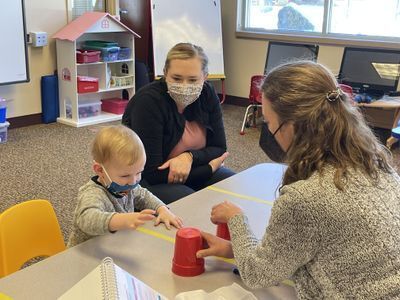 For Parents or Caregivers: Services in the Home
As parents and caregivers, you are part of your child's Early Intervention Services team. We want you to be part of the therapy session to the best of your comfort level. We are here for support and education as well as for direct service. Your follow through, carry over and participation in suggested activities is the most important key to success. We want you to voice concern and ask questions. If you have ideas, concerns, or suggestions, please bring them up during our session, or write them down. Communication between the entire team is important.
The policies below are meant to keep your services running smoothly as possible.
Cancellations:  We know that situations will come up that make canceling a session necessary. Please call your therapist at least 12 hours before your appointment to allow for adjustments in the travel schedule, or for opportunity to reschedule another child. You can call your Early Intervention Services therapist directly or the office at 814-362-4621. We will try to reschedule if possible.
If a therapist or teacher needs to cancel, we will show the same courtesy and call in advance, unless there is an emergency.  We will also call if we are running more than 15 minutes late.
Sick Policy: We are aware that children can become sick very quickly and your child's health status may be a factor in how often you will need to cancel or reschedule therapy.  We understand this and just would like as much notice as possible. The following is a guideline for what CARE would consider a time when you need to call and cancel:
A fever
Congestion; chest and head congestion and/or other flu like symptoms that are impacting behavior or normal demeanor
Pink-eye or a body rash
A severe cry; red or blue in the face and makes a high pitched whooping noise after coughing
A known contagious illness
With all the above symptoms, please be symptom free for at least 24 hours or call and cancel your appointment
Diarrhea and/or vomiting; Please be symptom free for 48 hours or cancel session
If your child is experiencing any of these situations, their participation in their Early Intervention Services therapy will be negatively impacted, and it will most likely be an unproductive session.  If you are unsure whether to cancel your appointment or not, please call and discuss your child's situation with your therapist so they can make a final judgment based on information shared.
Early Intervention Services means that we work with many children that may be unusually susceptible to germs, this is a very important policy.  In turn, if your therapist is ill, they will call you as soon as possible to cancel and reschedule if possible.  We try very hard to prevent being the individual bringing germs into anyone's homes.
No Shows:  Not being at home for your pre-scheduled Early Intervention Services session(s) in unacceptable.  One time in this situation will be a warning.  The second no show will jeopardize your current therapy time.  The third will possibly mean being dropped from the therapist's schedule.  We want to do everything possible to make therapy a resource and not a burden.  Please let us know of any problems you are having with the schedule. We know that a variety of reasons may lead to a scheduling difficulty and we would be happy to work through concerns with you.
Home Carryover Suggestions:  Every session, you will be given ideas for activities to work on with your child until the therapist's/ teachers next visit.  These are suggestions which will continue to focus on the areas being addressed in therapy.  Follow through with these ideas will help your child to progress. If you do not understand what is being suggested, or it is not going as you expected, please call Ashley Carlson, MOT-OTR/L, Pediatric Therapy Services Director or Tina Martin, Executive Director at 814-362-4621.
Parent Support:  Sometimes parents feel overwhelmed, angry, sad, or anxious when learning that their child may need Early Intervention Services.  It can be a very stressful and confusing time for families. If you feel you need more support as a family over and above your child's therapy, please let us know or call your service coordinator and ask about support groups or individualized support that is available from specialists through the early intervention system.
---
Early Intervention Resources
Overview of Early Intervention Services
Parent Participation in Early Intervention
Parent Notification and Consent
PATTAN A Family's Introduction to Early Intervention in Pennsylvania
PATTAN Early Intervention Family Resources
PATTAN Early Intervention Supports and Services: Facts for Families
For Pennsylvania, please see A Pediatric Practitioner's Guide to Early Intervention in Pennsylvania
www.firstsigns.org/programs/pa.htm
Early Intervention (EI): Questions and Answers
Early Development: The First Three Years Set the Stage for Lifelong Success
Family Tools from the Center on the Social Emotional Foundations of Early Learning at Vanderbilt University
---
Developmental Screenings & Milestones
What is a developmental screening?
CARE for Children provides developmental screenings several times per year and per request at health fairs and other events. Developmental screenings are used to identify children who should receive more intensive assessment or diagnosis for potential developmental delays. It can allow for earlier detection of delays and improve child health and well-being for identified children.
Why is developmental screening important?
Many children with behavioral or developmental disabilities are missing vital opportunities for early detection and intervention. Many children with developmental delays are not being identified early.
In the United States, 17% of children have a developmental or behavioral disability.
In addition, many children have delays in language or other areas, which also impact school readiness. However, less than 50% of these children are identified as having a problem before starting school, by which time significant delays may have already occurred and opportunities for treatment have been missed.(Information provided by the Centers for Disease Control and Prevention (CDC) please visit their site at http://www.cdc.gov/ncbddd/child/devtool.htm for more information.)
Is your child having difficulty sitting up? Walking? Talking? Read CARE's Early Intervention information above on how to get help.
---
Typical Developmental Milestones for Children Birth to Five
By 6 months, a child:
Knows familiar faces, smiles, makes cooing sounds
Lifts head, begins to roll over, holds toy briefly
Likes to watch their own hands and look at things around them
Wants to try new foods, seems excited about being fed
Can bring both hands to center, plays with toes, holds head up and rolls
By 1 year, a child:
Rolls a ball, looks for dropped toys
Likes to play with a toy, can use a cup with help
Sits up, creeps or crawls, pulls up to stand
Says and understands a few words
Starts to stand alone
By 18 months, a child:
Starts to say several words, makes noises as if talking
Rolls a ball, does things they see others do
Takes off some clothes, puts things into a box
Uses a cup, spoon, and kicks a ball
Starting to run and climb chairs
By 2 years, a child:
Speaks several words together
Feeds self with spoon and drinks from cup
Points to body parts when asked
Kicks a ball, walks up and down stairs
Likes to hear stories, plays alone for a short time
By 3 years, a child:
Enjoys pretending with toys and adults
Easily picks up very small objects
Uses three word sentences
Enjoys playing with children but may be shy
Puts on coat, shoes, hat
By 4 years, a child:
Tells little stories
Understands concept of some numbers and colors
Speaks in longer phrases/sentences
Dresses and feeds self
Gets along and plays with other children
By 5 years, a child:
Matches spoken words with pictures
Follows directions that have two steps
Speaks clearly and can be understood by others in the family
Recognizes and copies some shapes and letters
Counts to ten
If you have questions about your infant or toddlers development, please contact our office or the McKean County Early Intervention Office at 814-975-1221.