Giving to CARE for Children
Ways You Can Help...
CARE for Children has worked since 1924 to help children of all abilities reach their full potential. To support our mission of improving the lives of children of all abilities, we rely on the generous support of a caring community. Individual donors, businesses, corporations, civic clubs, foundations and other organizations make it possible for CARE to offer high quality and vital services for children and families. CARE is a 501 (c)(3) organization, contributions are tax-deductible to the extent provided by law.
---
Giving
General Contributions
CARE for Children appreciates any size gift or outright donation to support our mission.  Donations can also be made in honor or memory of someone special.  Many donors choose to make gifts in memory of their parents or in honor of children in our program.  These contributions differ from memorial and honorariums in that no acknowledgement card is sent to the recipient or recipient's family (unless an acknowledgment is requested).  Contributions can also be designated to a specific program or project.  To make a contribution send a check to  CARE for Children~ P.O. Box 616~ Bradford, PA 16701, or by Electronic Check (ACH) or credit card by using the "Donate Now" Icon.
Tribute Gifts
Memorials and Honorariums are a wonderful way to remember or honor a special person.  CARE uses special cards for tribute gifts that feature our 80th Anniversary Painting, Reaching Out, by Sean Huntington.  We can also customize cards.  Visit the Honorarium and Memorial page for more information.
CARE for Children Trust Fund
Donations may be designated to the CARE for Children Trust Fund. The fund provides a continuing source of operating dollars to subsidize our early learning programs to help keep tuition low; support our therapeutic recreation and community outreach programs for children with disabilities; and fund community outreach programs like social work/family support and the special assistance fund for expenses related to medical appointments; adaptive equipment or medical supplies; camp or recreation fees; emergency food or clothing for children with disabilities who reside in McKean County or who receive CARE services.  Trust income also enables CARE to invest in new programs and/or staff or to make capital improvements or purchases.
CARE for Children Annual Fund
The annual fund is held each spring and supports programs and services.  Gifts may be designated to a specific program or an area of greatest need.  Donors may also choose to support a special project.  Visit the Annual Fund page for more information.
CARE 'fore' Children Golf Tournament
The tournament is held annually on the first Sunday in August.  Widespread community support of local businesses and individuals who provide tournament sponsorships and in-kind donations of gifts and services, as well as over 120 golfers make this annual event so successful.  Money raised is used to fund child safety, therapeutic recreation, community outreach and early learning services.  Visit the tournament page for more information.
Event Sponsorship
CARE has opportunities for the sponsorship of community outreach activities including therapeutic recreation programs, family support activities, and Safe Kids events. Call the CARE offices at 814-362-4621 for more details.
Gift Designations
Donations may be designated to a specific program or for a specific purpose.  Gift designations or restrictions made by donors are strictly honored.
In-Kind Gifts
Your donation of developmental toys and books, office supplies, child safety items, and child safety literature are always needed and appreciated.
Support Your Local United Way or United Fund
CARE for Children receives support from the United Way of the Bradford Area, Inc, the Port Allegany Campaign for United Way, the Smethport Campaign for United Way, and the Kane United Fund.  You may designate whole or part of your contributions to these organizations to support CARE.  For many years CARE employees have achieved 100% giving to the United Way or United Fund in their respective communities.  We proudly highlight our affiliations and are grateful for the programs and services these allocations support.
CARE for Children and under our leadership, Safe Kids Pennsylvania- McKean County Partnership of Safe Kids receives not only funding but Community Impact Grant Funding from the United Way of the Bradford Area, Inc.  These funds may provide start-up for innovative new programs or are a stop-gap to help fund existing programs.  For more information on the United Way of the Bradford Area, Inc. please visit the website at uwbanews.org
Please support your local United Way or United Fund.   Your support makes our community stronger.
---
Named Funds
Lena Griffin Memorial Fund
CARE for Children established its first named fund in honor of former Executive Director Lena Griffin in commemoration of her 100th Birthday on February 20th, 2003. Mrs. Griffin began her tenure at CARE (formerly the McKean County Society for Crippled Children) May 1st, 1949 as executive secretary and orthopedic nurse.
During her leadership at the Society, Mrs. Griffin witnessed many changes in the treatment of children with disabilities; as the era of polio, heavy braces, iron lungs, segregation and hopelessness, gave way to new preventives, new treatments, new attitudes, and new hope for children with disabilities.
Mrs. Griffin retired January 1st, 1970. She continued to volunteer her nursing skills at CARE on clinic days working with the children of McKean County as she had done for the preceding 20 years. Sadly, Mrs. Griffin passed away February 21st, 2005, one day after her 102nd Birthday.
The Lena Griffin Memorial Fund is a tribute to Griffin's dedication, commitment, and service to the children of our community. Contributions, memorials and honorariums may be designated to the Lena Griffin Memorial Fund.
Rotary Kids Fund- Special Assistance
In 1995, the Rotary Club of Bradford began the Rotary Kids Special Assistance Fund for CARE kids and families. Each member of the Rotary donates yearly to the fund. The fund provides emergency assistance and the little extras for CARE families in need, such as:

Shoes/Winter Boots
Clothing
Accessible Toilet Seats
Wheel Chair Ramps
Crib Mattresses
Braces
Medicine/Medical Supplies
Car Repairs
Expenses Related to Hospital Stays
Recreation Program Fees
Contributions, memorials and honorariums may be designated to the Rotary Kids Special Assistance Fund.
Memorial and Honorary Named Funds are a wonderful way to pay tribute to a special person or family. The funds may be designated to a specific area for support or may be unrestricted. Please contact CARE for more information.
---
Deferred and Planned Giving
Remember CARE for Children in your Estate Planning
Wills: Through your will, you may make a gift at your death. You may chose to set aside a percentage of your estate, a specific amount of money, property, personal belongings, goods, business interests, or securities to benefit a charity.
Gift Annuities: A gift annuity enables the donor to transfer cash or marketable securities such as stocks or bonds including mutual funds, to a charity.
Trusts: Through a charitable remainder trust, the donor establishes a significant gift for charity, the donor and/or the donor's designated beneficiaries receive a set percentage from the trust assets for life. Thereafter, the principal is given to charity.
Real Estate: A donor may give their residence or other real property to a charity through a planned gift. The donor may continue to reside at the property and use any income it produces. Upon the donor's death, the charity receives ownership of the property.
Life Insurance: Life insurance policies or the dividends paid on policies can be charitable gifts, if you designate a charity as beneficiary.
Please see your attorney or a financial planner for more information about planned giving.
---
Donor Bill of Rights
CARE's Giving Program adheres to the Donor Bill of Rights, to view please click on the link: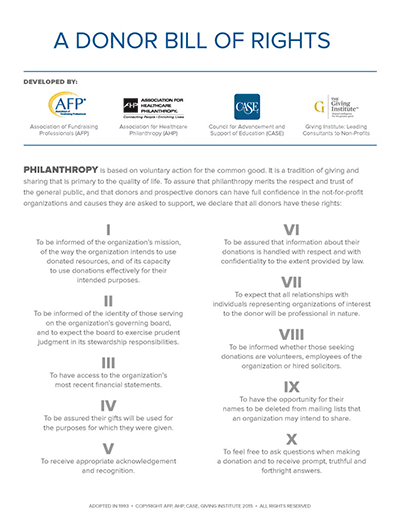 ---
Your Gift Make a Difference, Thank You!
The official registration and financial information of CARE for Children may be obtained from the Pennsylvania Department of the State by calling toll free within Pennsylvania at 1-800-732-0999. Registration does not imply endorsement.