Child Safety & Injury Prevention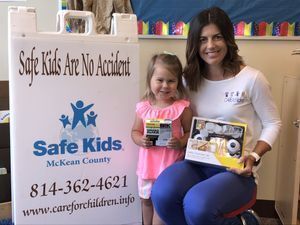 Home Safety Program – In an effort to help local families that may be in need of home childproofing and safety items as well as information, health and human services agencies can make referrals for families to receive, at no charge, items that may include:
Childproofing Kits and other childproofing items including plug covers, appliance locks, furniture wall straps, etc.
Smoke Detectors
Carbon Monoxide Detectors
Universal Cable Gun Locks
Mr. Yuck Stickers and poison prevention materials
Other Safety Items based on availability
Families may also contact CARE directly for childproofing and safety items. During the ongoing pandemic, arrangements will be made for item delivery or pick-up while practicing safe social distancing practices.
Home Safety Program Referral Form (Online Form)
Home Safety Program Referral Form (PDF)
---
McKean County Cribs for Kids® –  The program developed by Cribs for Kids® National Infant Safe Sleep Initiative provides safe sleep environments for families in need and provides a consistent safe sleep message to the community. The goal is to reduce the number of accidental infant sleep-related deaths.
With funding from the Philo and Sarah Blaisdell Foundation, CARE was able to purchase portable cribs from the National Cribs for Kids® Program as well as fitted sheets, infant sleep sacks, and educational materials. Health care providers, at-home visitors, Children and Youth Services, and early childhood programs are all encouraged to make referrals to the program. For more information, visit the McKean County Cribs for Kids® page.
McKean County Cribs for Kids® Referral Form (PDF)
---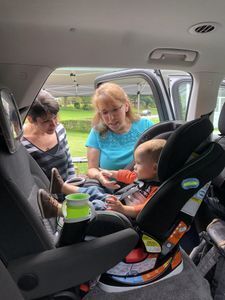 Car Seat Safety Checks - A certified child passenger seat specialist provides car seat checks at safety fairs, independent car seat safety events, and by appointment. CARE for Children generally has funding to replace old or outdated car seats for parents.  Please contact CARE for Children for more information on the Car Seat Program.
---
Kindergarten Bike Safety Program - As the lead agency for Safe Kids Pennsylvania- McKean County Partner, CARE for Children has partnered with local school districts, Safe Kids Pennsylvania, and the United Way of the Bradford Area, Inc. to promote bicycle safety and helmet use through a school based program for Kindergarten students in McKean County.
Bicycle Helmet Fitting Video Tutorial -- In the short video below, Kimberly Engstrom, M.Ed., CARE preschool director and bike safety educator, provides a helpful tutorial on how to properly fit a bicycle helmet and some important things to check.
Ride Safe/ Bicycle Safety Events – We partner with local communities and school districts to host events and programs at which children can be fitted for and receive a bicycle helmet, if need be.  Participants also receive various other safety items and materials. Events have been held in Bradford, Eldred, Kane, Port Allegany and Smethport.
Community Safety Fairs – The McKean County Partnership holds safety fairs in communities across the county. Safety Fairs may have car seat safety check zones, helmet fittings and giveaways, and safety items and materials from various organizations.
Educational Workshops – The McKean County Partnership holds educational workshops & trainings for parents and professionals. Please check the Special Events link for more information.
Child Safety Presentations – Members from the McKean County Partnership present to classrooms across the county as well as civic groups and other organizations. Contact CARE for Children for more information.
Display Boards – Display boards are available to lend to local groups on a variety of safety topics.
Information & Referral – The McKean County Partnership has current child safety information as well as referral services. Contact CARE for more information.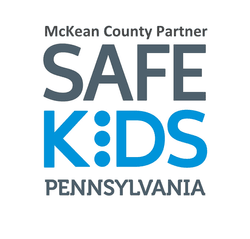 Contact Information
Safe Kids Pennsylvania- McKean County Partner
Lead Organization:
CARE for Children
P.O. Box 616 ~ 723 East Main Street
Bradford, PA 16701
Phone: (814) 362-4621
Fax: (814) 362-1066
Email: reception@careforchildren.info