CARE for Children Rainbow Corner Preschool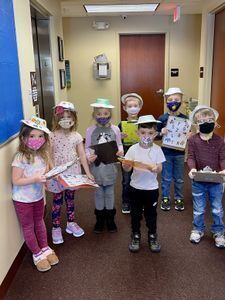 Licensed by the PA Department of Education
2023-2024 Early Learning Handbook
2023-2024 Early Learning Calendar
Location
CARE for Children
at the Ashley Booth Griffin CARE for Children Center
PO Box 616 ~ 723 East Main Street
Bradford, PA 16701
*Early Learning Program participants use Russell Boulevard entrance
General Information
For students three, four, and five years old.
Individualized Instruction.
Program based on best practice models in Early Learning.
Trained developmental therapists on staff.
Technology used in the classroom to support the curriculum.
Modern classrooms in a new facility.
Certified Early Childhood Educators and Experienced Preschool Staff.
Large outdoor learning space/playground with equipment geared for children age 2 to 7.
Annual STEM Enrichment program for Preschool families.
Staff will participate in bathroom training in cooperation with a home program.
---
Registration for 2023-2024
Registration for the 2023-2024 school year begins on Tuesday, March 7, 2023 for returning preschool students and current playgroup participants who will be moving up to preschool.  Registration will open to the public on Monday, March 20, 2023. 
Completed forms and the registration fee can be returned by mail to CARE for Children, P.O. Box 616, Bradford, PA 16701 or dropped off at the Ashley Booth Griffin CARE for Children Center.  
Please note, enrollment is not complete until the registration fee is paid.  Please include the registration fee (cash or check make payable to CARE for Children) with your completed registration forms.
---
Schedule & Tuition Information
2023-2024 Preschool Sessions
5 day-a-week program
Monday-Friday ~ 8:00 a.m. to 11:00 a.m.
The curriculum focuses on Kindergarten readiness and STEM and is suitable for students who have previously attended preschool or students who will enter Kindergarten the following school year. This is typically a mixed age class of 4 and 5-year-old students.  (Full Tuition: $315 per month – Scholarships available for families who qualify)
3 day-a-week program
Tuesday, Wednesday, Thursday ~ 8:00 a.m. to 11:00 a.m.
The curriculum focuses more heavily on classroom routines, social-emotional development, and school-readiness skills, including pre-math, literacy and STEM.  This class is suitable for students who are new to preschool or for families who need the flexibility of a 3 day a week schedule. This is typically a mixed age class of 3, 4 and 5-year-old students.  (Full Tuition: $190 per month – Scholarships available for families who qualify)
2 day-a-week program
Monday and Friday ~ 8:00 a.m. to 11:00 a.m.
The curriculum focuses on transitioning students to preschool and school routines, developing social-emotional skills, language, literacy, STEM activities and pre-math.  Class size is smaller and a good fit for students new to preschool or for families who need the flexibility of a two-day program. This is typically a mixed age class of 3, 4 and 5-year-old students.  (Full Tuition: $130 per month – Scholarships available for families who qualify)
---
Preschool Philosophy
The educational philosophy adopted by CARE for Children Rainbow Corner Preschool seeks to meet each individual child's needs in the least restrictive environment. The school environment is set up to promote curiosity and discovery and is accessible to all children. Our goal is to encourage spontaneous learning. Each center in the room is set up to encourage children to explore and promote learning in cognitive, language, social, fine and gross motor development. The classroom provides a safe, happy atmosphere where children feel secure enough to share their accomplishments, failures, and feelings thus developing positive self-esteem while nurturing a joy of learning.
The curriculum used by Rainbow Corner revolves around thematic units that are of interest to the students but also correlates with the academic standards set by the State of Pennsylvania Early Learning Standards. The day is divided between teacher-directed learning and child-initiated learning experiences. The curriculum is challenging enough for all children on their own individual level and adaptations are made when necessary. Children are provided a curriculum that pushes them to excel but does not frustrate them or lower their self-esteem. Through the curriculum we engage children in learning. We encourage each child to feel pride in their individual accomplishments.
The needs of children with Individualized Education Plans (IEP) are, to the greatest extent possible, addressed in the everyday curriculum of the classroom. While children are engaged in exploratory learning the preschool staff is available to answer questions and help guide them through the learning process. The classroom has a wide variety of books available and fostering a love of learning and reading are important components of our program.
At Rainbow Corner Preschool, we believe we are shaping the minds of the future. It is our responsibility to set a solid foundation of knowledge and skills that will meet the needs of every child, so that one day they will become self confident, contributing members of society.
---
Preschool Curriculum & Assessments
Each Early Learning program monitors students' development with performance indicators (expectations) based on Pennsylvania State and national standards.
Rainbow Corner Preschool utilizes several nationally recognized math, science, and literacy curriculums aligned with state and national standards and geared to provide continuity to local Kindergarten programs. Rainbow Corner uses Teaching Strategies from Creative Curriculum to document children's progress, skills, knowledge, behavior, and academic accomplishments.  Teaching Strategies enables the teachers and aides to be responsive to each child's developmental and educational needs.
---
Preschool Frequently Asked Questions
Can I pay my child's tuition with a credit card? 
Yes, you are able to pay tuition with a credit card here.  Please add the transaction fee as prompted (approximately 3.1%) to cover credit card processing fees.
When is tuition due?
Tuition is pre-paid on a monthly basis and is due on the first of each month.
Can I get a year-end tax statement?
Yes.  Requests for year-end tax statements and tuition records must be made seven business days in advance to the Finance and Office Manager.
How early can I drop my child off in the morning for preschool?
The Ashley Booth Griffin CARE for Children Center opens at 7:45 am.  Children cannot be dropped off before that time.
How do I know if school is canceled due to weather?
In adverse weather conditions, CARE for Children's Executive Director will determine whether to delay or close programs or the entire agency.  In the event of a closure or delay, information will be shared through the phone tree, the WESB website, Facebook and radio station.  If the Bradford Area School District closes due to weather which causes hazardous conditions- CARE center based programs and the main office will close.  In the past school districts have closed because of extreme cold, in those cases closures or delays are at the discretion of CARE management.
What is the Immunization Policy?
CARE for Children follows the School Vaccination Requirements for Attendance in Pennsylvania Schools.
All students shall be immunized against certain diseases in accordance with Pennsylvania statutes, unless specifically exempt for religious or medical reasons.  No student shall be admitted to or permitted to attend preschool who has not been immunized in accordance with state regulations, unless provisionally admitted or exempted for medical or religious reasons.  A student shall be exempt from immunization requirements whose parent/guardian objects in writing to such immunization on religious grounds (a religious exemption may also include strong moral or ethical conviction similar to a religious belief) or whose physician certifies that the student's physical condition contraindicates immunization.
What are the COVID-19 Safeguards?
CARE for Children's Early Learning Programs are following health, safety, hygiene, cleaning and masking protocols as recommended by the CDC for Early Childhood Education Programs.  For detailed information please contact the preschool director.
---
Pre-Kindergarten Scholarship Program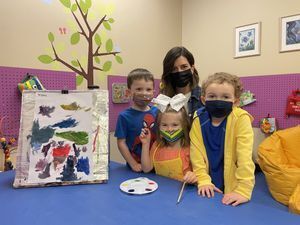 CARE for Children works to keep tuition affordable for families, believing all children deserve early childhood education. The level of scholarship funding is dependent upon funds raised each year.
CARE is a Pre-Kindergarten Scholarship Program through the State of Pennsylvania's Educational Improvement Tax Credit Program (EITC).  Scholarship funding for this program has higher income guidelines which are determined each year after July 1st.  Pre-Kindergarten Scholarship awards will be determined each school year and are based on qualified businesses contributing to our program so funding as well as scholarship amounts may vary year-to-year.
If your family does not qualify for EITC and tuition assistance is needed for your child to attend, please call the CARE Finance Manager, Valorie Coast, for other possible options.
It is recommended that all families fill out the financial aid form to ensure eligibility for scholarship funding especially if your family's circumstances change mid-year.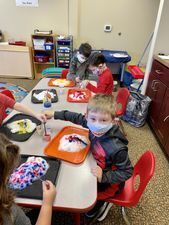 Multi-Child Discount
CARE also offers discounts for families with more than one child enrolled in our preschool program. The discount is 10% off the second child's tuition rate and 5% for any additional children. The discount will be reflected on your monthly tuition statement.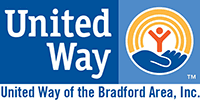 CARE for Children's Early Learning Programs are funded, in part, by the United Way of the Bradford Area, Inc.