Therapeutic Recreation
Therapeutic Recreation for children with disabilities provides many benefits including; cardiovascular fitness, and improved strength, balance, coordination, and muscle control. It also can improve self esteem, provide an opportunity to gain socialization skills and encourage fair play and sportsmanship. CARE's goal is to provide fun activities, promote life-long fitness, and provide a creative and rewarding extension of traditional therapy services. Recreation programs also give parents a respite which is considered a "gift of time" for parents and caregivers of children with disabilities. CARE parents are able to bring their children to events and activities and be assured that qualified staff members are watching and playing with their children.
---
CARE's Therapeutic Recreation activities have included: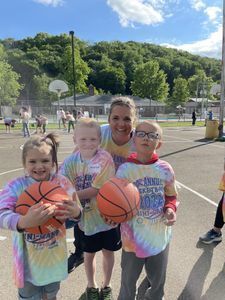 Adaptive Ski Outing at Holiday Valley
The adaptive ski clinic is held with instructors from Holiday Valley's Lounsbury Adaptive Ski Program, a chapter of Disabled Sports/USA. Certified volunteer instructors provide expert coaching and instruction to children of varying abilities. The Lounsbury Program also provides a wide range of adaptive equipment to meet the needs of participants.
Basketball Mini-Camp
CARE hosts an annual basketball mini camp for school-age children and CARE therapists, staff, and community volunteers work with CARE kids on dribbling, shooting and passing. The camp provides the opportunity for both boys and girls of all abilities to work on gross and fine motor skills, socialization, and physical fitness. Each child attending the camp receives a t-shirt and basketball. Kids and family members are treated to lunch following the camp.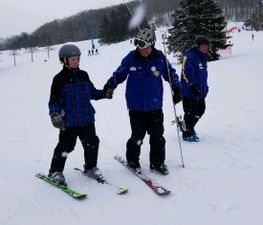 "A Night at the Ball Field"
The University of Pittsburgh at Bradford Softball Team has hosted softball clinics for children who receive therapy services from CARE for Children.  Participants complete drills, participate in batting practice, and play a scrimmage.
Mini Golf
Mini golf outings have been held in the summer at Mystic Waters Resort and Good Times of Olean.
Fine Arts and Crafts
CARE routinely sponsors activities that focus on fine motor skills including arts and crafts nights; cookie and bingo nights; and build-a-friend programs where the children construct their own teddy bears.
CARE Kid Cooking
Cooking has great therapeutic components for kids to work on their hand-eye coordination, life skills abilities and other cognitive skills.The occupational therapy staff at CARE picks kid friendly recipes, gathers the ingredients, and puts together fun activities for CARE cooking classes. Kids have made gourmet mini pizzas, corn dogs on a stick, "dirt" cups, cinnamon twists, trail mix, smoothies, and holiday cookies. The cooking classes also feature tips for kitchen safety, kitchen hygiene and a basic introduction to reading a recipe.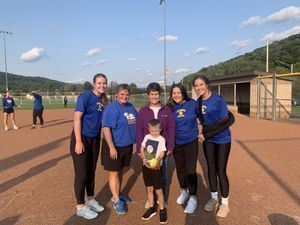 CARE Kid Fitness
Thanks in part to funding from Highmark Blue Cross Blue Shield; CARE began offering a fitness program for children in June 2007. CARE Kid Fitness is geared for children ages 5 to 16 years old with disabilities, special health care needs and/ or at risk for obesity. CARE therapists assist the physical education teachers from the Bradford Area School District in conducting weekly adaptive gym classes for children who might need additional help.  The goal of these classes is to promote life-long fitness and the positive self-esteem of students.
Sponsorship
CARE is appreciative for the wide-spread support of community groups, civic clubs, businesses, and individual donors that enable us to sponsor so many great, free programs for children of all abilities.
CARE's Therapeutic Recreation programs are also sponsored in part by the United Way of the Bradford Area, Inc.
To sponsor a specific recreation program or volunteer for an event please call us at
814-362-4621 or email care@careforchildren.info.