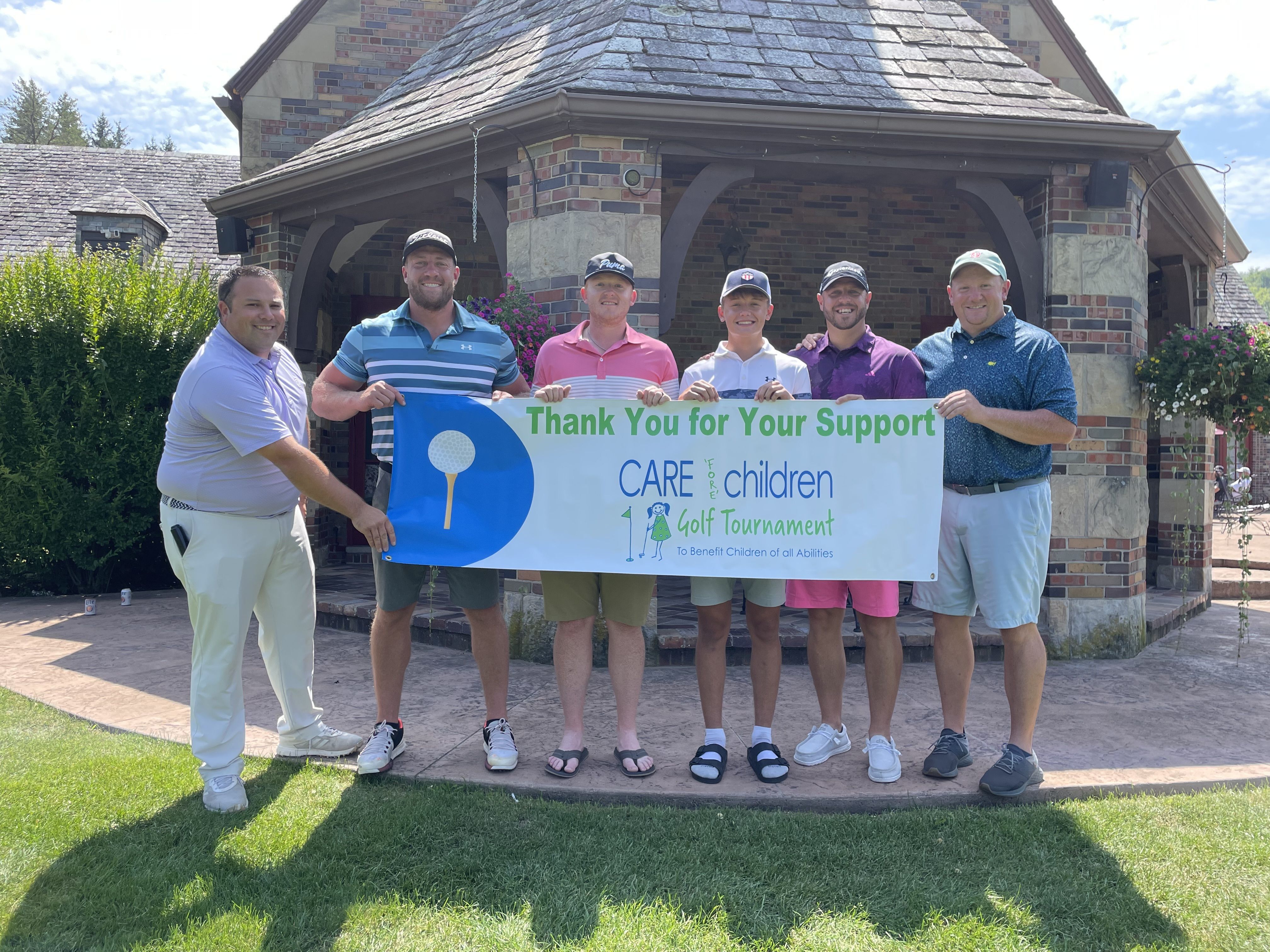 Premier Sponsors Allegheny Bradford Corporation and the Philo & Sarah Blaisdell Foundation, along with Lead Sponsors UPMC Health Plan and Zippo/Case Museum, presented this year's CARE 'fore' Children Golf Tournament on Sunday, August 6th, 2023 at the Pennhills Club.
To date, approximately $38,000 has been raised with proceeds benefitting CARE's free outreach services for children with developmental delays; pediatric developmental screenings; therapeutic recreation programs; and child safety initiatives which aim to prevent disabilities and fatalities from accidental injuries.
Kids and Cancer Benefit, Marshall Insurance Services, Inc., and Pine Valley Nurseries – in memory of Dick Kallenborn were Course Sponsors; and Greg and Cherie Booth – in memory of Ashley Booth Griffin, CNB Bank, Highmark Blue Cross Blue Shield, HUB, and Northwest Bank were Flight Sponsors. Five other donors were Fairway Sponsors, including B & T Building Services, Inc.; Carlson Dental Associates; Dexter's Service & Collision; Tyler R. Hannah, Attorney at Law; and Luv Toyota. In total, over 210 donors, businesses and organizations provided sponsorships and in-kind donations of prizes and other services to support the tournament. Thirty-six teams comprised of 143 golfers made up the field.
Each year CARE provides distinct services to improve the lives of children of all abilities in McKean County and the surrounding region. Events like the annual golf tournament make these services and programs possible.
CARE for Children is a non-profit organization dedicated to improving the lives of children of all abilities.
Photo Caption: The team of Zach Smith. Dan Rinfrette, Jake Franz, and Mike Gleason shot a score of 56 to win the Northwest Bank Flight at the 30th annual CARE 'fore' Children golf tournament Sunday at the Pennhills Club. Pictured from left are John Rook, PGA Head Professional; Smith; Rinfrette; Franz; Gleason; and Norm Strotman, CARE board member and golf tournament co-chair.