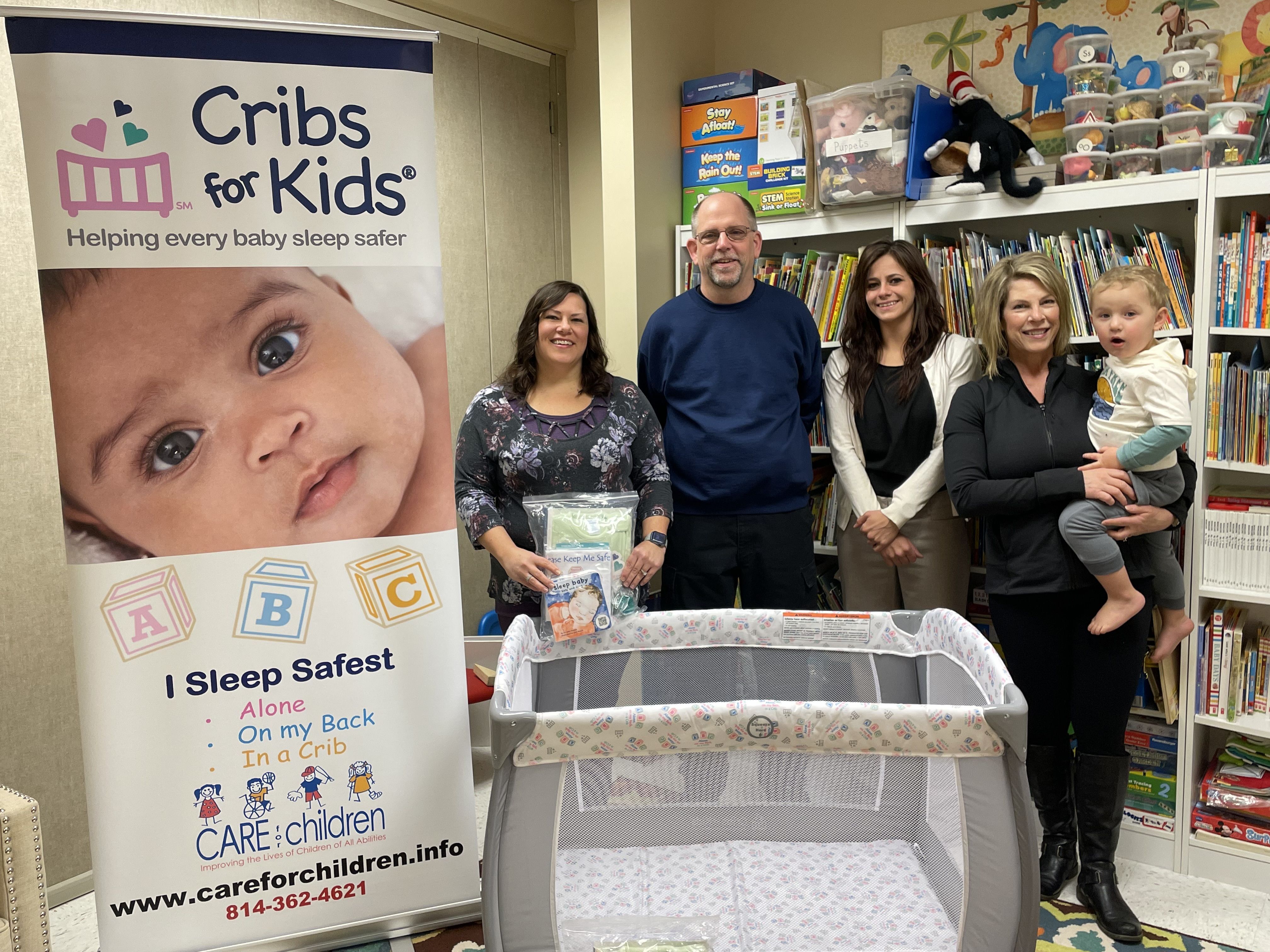 CARE for Children, lead agency for the McKean County Partnership of Safe Kids Pennsylvania, recently received Community Impact funding from the United Way of the Bradford Area in the fourth quarter of 2022, as well as donations from the Bradford Exchange Club and Doug and Lynne Kuntz, to purchase twenty Cribs for Kids® Safe Sleep Survival Kits to promote infant safe sleep.
CARE for Children operates the local McKean County Cribs for Kids® Program under the umbrella of the Safe Kids Pennsylvania-McKean County Partnership. Since 2018-2019, the McKean County Partnership has provided safe sleep education and distributed 62 Cribettes to date in McKean County.
The program was developed by Cribs for Kids® National Infant Safe Sleep Initiative to provide a consistent safe sleep message to the community and reduce the number of accidental infant sleep-related deaths by providing safe sleep education and environments through local programs.
The McKean County Cribs for Kids® Program has child safety educators who provide infant safe sleep education to parents. Families are then given a Safe Sleep Survival Kit, which include a Cribs for Kids® Cribette, SleepSack, sheet, pacifier, and educational materials.
Families in need of a crib can call CARE at 814-362-4621. Health care providers, at-home visitors, Children and Youth Services, and early childhood programs are also encouraged to make referrals to the program. More information on safe sleep for infants and the Cribs for Kids® Program can be found at CARE's website https://careforchildren.info/what-we-do/child-safety/mckean-county-cribs-for-kids.html.
Photo Caption: Pictured (left-right) with a Cribette and Safe Sleep Survival Kit are Marcy Flickinger and Dan Woods, members of the Bradford Exchange Club; Sarah Lonzi, executive director of the United Way of the Bradford Area, Inc.; and Lynne Kuntz, CARE for Children board member with her grandson Gavyn McCammon. Missing from the photo were Stoney Greenberg, Bradford Exchange Club president, and Doug Kuntz.