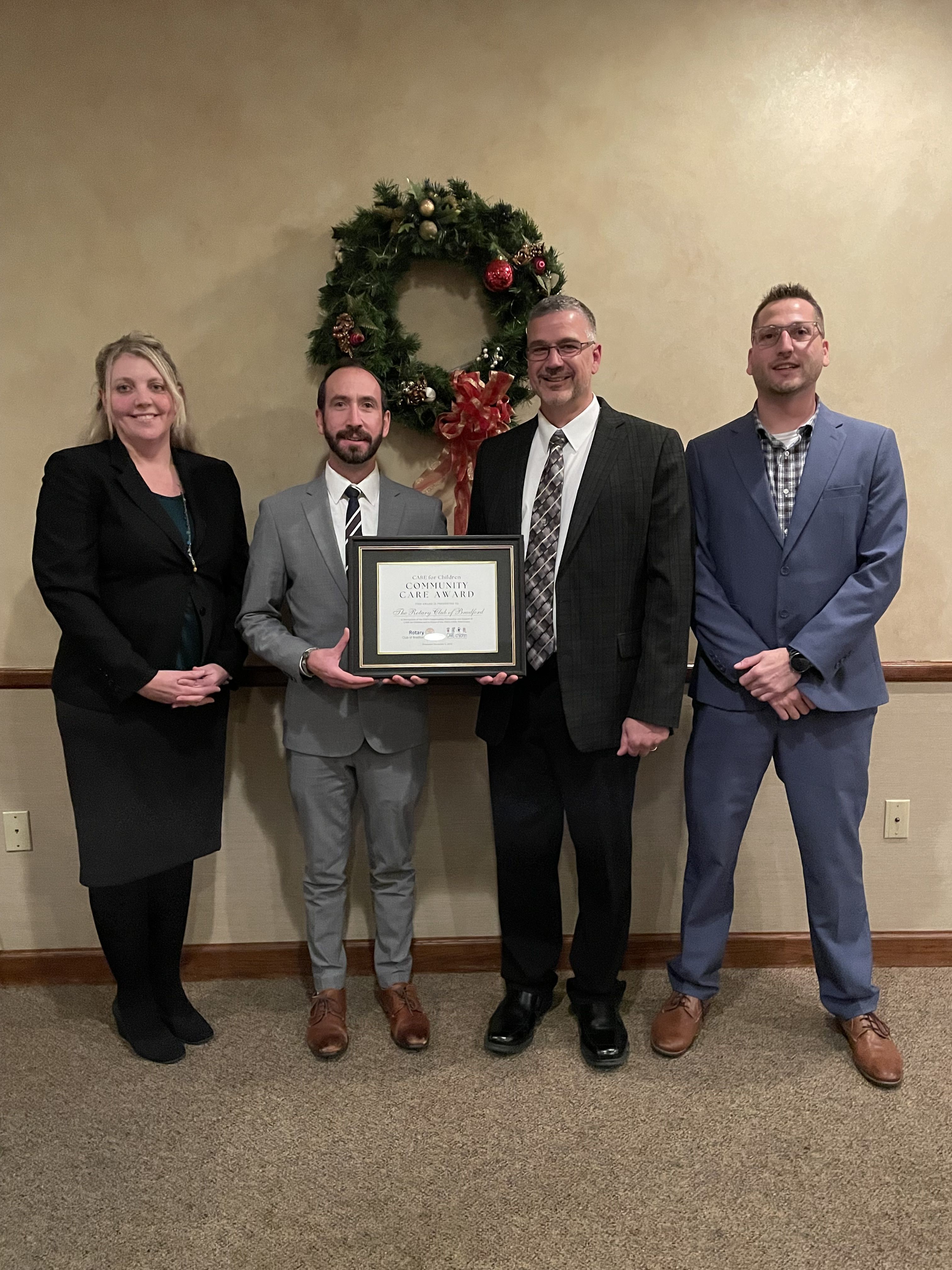 The annual meeting of the CARE for Children Board of Directors was held Thursday evening, December 1st, at the Bradford Club.
The CARE Board of Directors honored The Rotary Club of Bradford with the organization's 2022 Community CARE Award.
"Tonight's award celebrates The Rotary Club of Bradford's 100th Anniversary and even more importantly, the 98-year partnership with CARE for Children that has contributed to the organization's remarkable growth – and positively impacted the lives of thousands of children," noted Tyler R. Hannah, CARE Board President. "The depth and breadth of CARE services has grown significantly since 1924, with Rotary Club support each and every step of the way."
The relationship between CARE and The Rotary Club of Bradford began in 1924, when Rotarians realized that an area as large as McKean County should have a formally organized body whose sole purpose was to better the lot of disabled children. Representatives from local government, the public schools, and the Bradford and Kane Rotary Clubs met to consider founding such an organization. At this first historic meeting the McKean County Society for Crippled Children was officially founded, later becoming the McKean County Easter Seals Society and now, CARE for Children.
Hannah noted many of the Rotary Club's recent contributions, which have included volunteering at recreation programs, providing children with dental supplies and warm coats, purchasing playground and therapy equipment, supporting child safety programs, and completing a significant pledge to the Ashley Booth Griffin CARE for Children Center. The Rotary Club of Bradford also established the Rotary Kids Special Assistance Fund in 1995, which is supported by Rotarians through fundraising and a portion of each members' annual dues. The fund provides emergency assistance and the little extras for CARE families in need.
Accepting the award on behalf of The Rotary Club of Bradford was Steve Morgan, President. Morgan remarked, "It is no surprise that the relationship between CARE and Rotary remains relevant today. Beyond our connected history, our two organizations have much in common. Both CARE for Children and Rotary have been supporting our community for close to a century."
Morgan also noted, "We share a common mission to provide service to people in need. To say that CARE for Children and the Rotary Club of Bradford are connected would certainly be an understatement. Rotary has been a supporter of CARE since the very beginning…almost 100 years!"
The Community CARE Awards were established by the Board of Directors in 2003 to recognize outstanding contributions to the agency and to the children and families to whom CARE provides service.
During the meeting, Hannah also provided a review of CARE's 2021-2022 fiscal year which had an overall theme of 'Building Connections.' He highlighted the organization's impact during the year and a financial overview. In conclusion, Hannah noted, "on behalf of the CARE Board, I would like to express our gratitude for the connections with our many donors, funders, sponsors, and volunteers who invest so readily and generously in support of CARE's mission."
Photo caption: From left are Tina M. Martin, CARE executive director, Tyler R. Hannah, CARE board president; Steve Morgan, The Rotary Club of Bradford president; and Benjamin Kirsch, Rotary vice president.