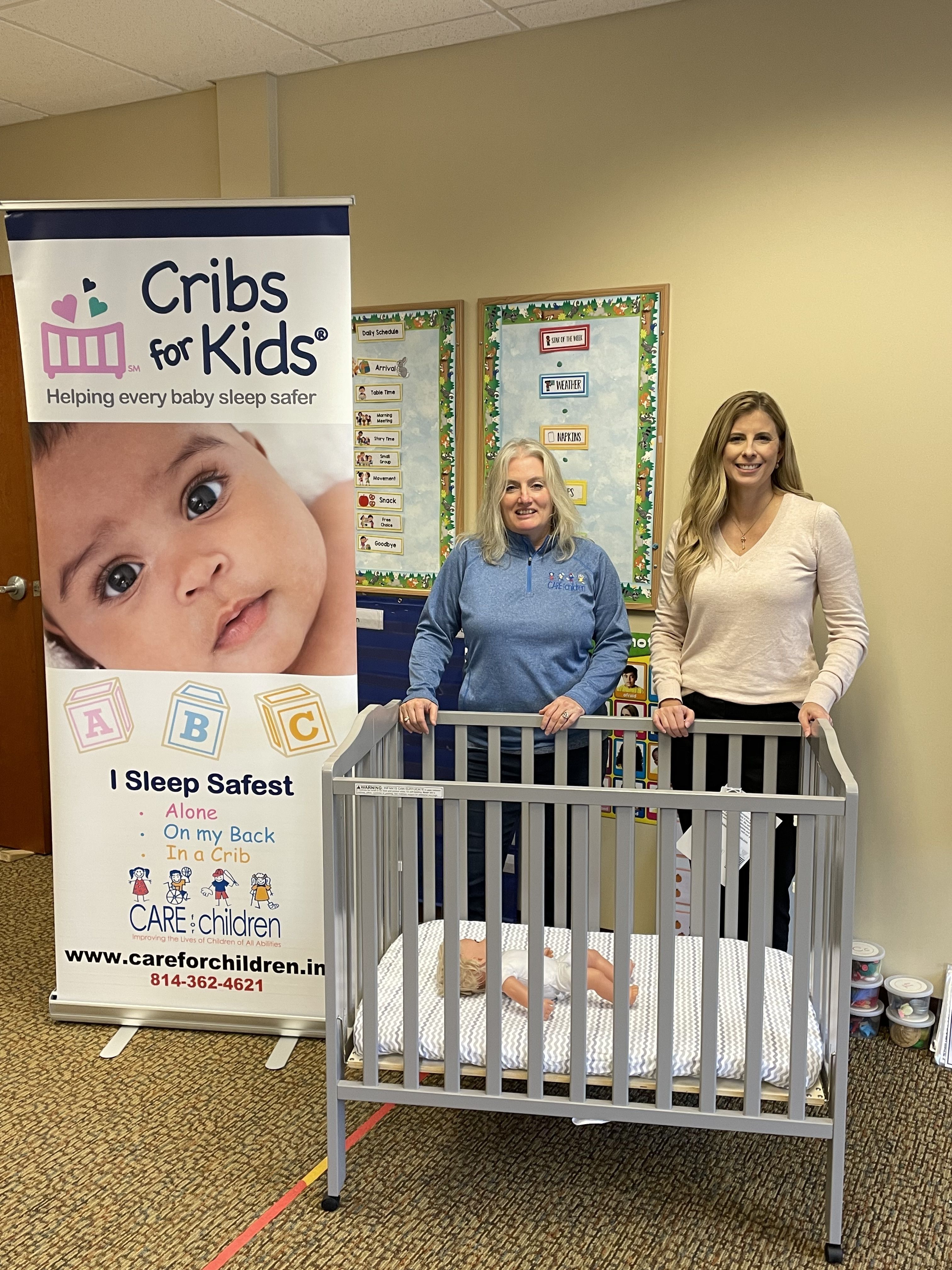 The Dr. Lyle F. Renodin Foundation, a Ministry of the Franciscan Sisters of Allegany, New York, has donated $3,000 to CARE for Children/Safe Kids Pennsylvania – McKean County Partnership to purchase mini cribs, mattresses and crib sheets to ensure a safe sleep environment for young children.
The mini cribs are specifically for children over 30 pounds and/or one year of age and up who do not meet the guidelines for the McKean County Cribs for Kids program (birth to 11 months old and under 30 pounds).  The new mini cribs will be distributed through the Home Safety Program, which provides childproofing and home safety items for local families in need. 
Health and human services agencies, at-home visitors, Children and Youth Services, and early childhood programs are also encouraged to make referrals to both the Home Safety and McKean County Cribs for Kids Programs.  Families may also contact CARE directly at 814-362-4621 or visit www.careforchildren.info/child-safety/ for more information.
CARE for Children is a non-profit organization which provides child safety and injury prevention initiatives through its leadership of the Safe Kids Pennsylvania—McKean County Partnership.  The partnership aims to promote the prevention of accidental child injuries through education, collaboration and advocacy.  CARE also provides pediatric therapy services, early learning programs, and community outreach services for children of all abilities in the region.
The Renodin Foundation provides grants for programs and projects serving people in the Allegany/Cattaraugus Counties of New York and McKean County, Pennsylvania whose public charitable purposes are carried out in a manner consistent with the tradition of the Franciscan Sisters.  Grant awards show a connection to the mission of the Foundation and assist the needy, underprivileged, elderly, developmentally disabled, handicapped, or economically disadvantaged.
Photo Caption:  From left, CARE for Children Social Worker and Safe Sleep Educator, Joy Haney, MSW, LSW and Renodin Foundation President, Laura Whitford are shown with a new mini crib available through CARE's Home Safety Program.