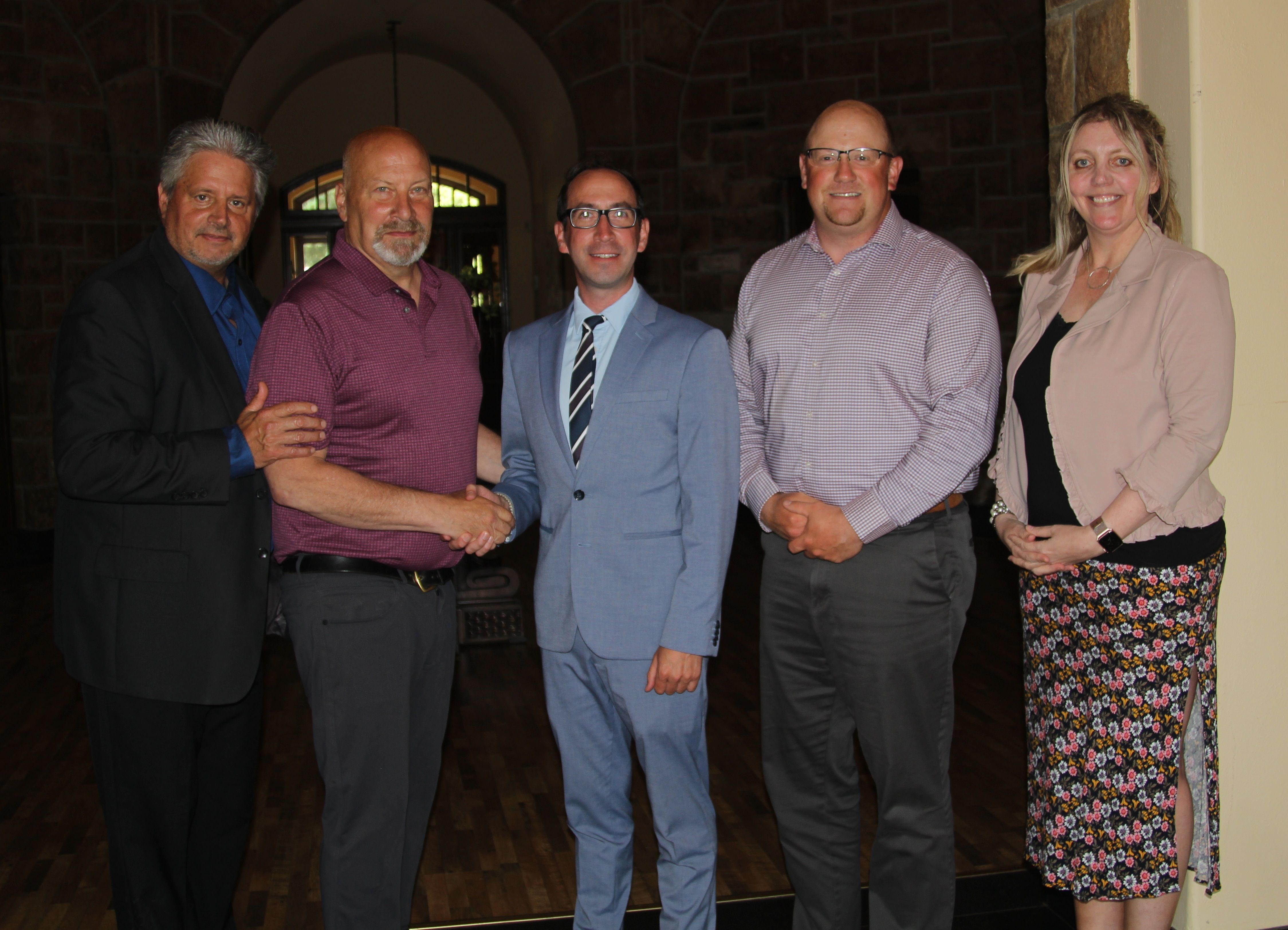 CARE for Children held an appreciation luncheon for the Board of Directors and Staff Wednesday, June 8, 2022 at the Pennhills Club in Bradford.
On behalf of the CARE Board of Directors, Joseph Yaros, treasurer, honored board member James Macfarlane with a Community CARE Volunteer Appreciation Award for his longstanding and dedicated service to the organization.  Macfarlane recently completed a fourteen-year tenure as a board member, serving from 2007-2021. 
Tyler R. Hannah, president, recognized Norm Strotman for his four-year term as President of the Board of Directors from 2017-2021.  Hannah noted, "we are grateful for Norm's outstanding leadership even through some difficult times during the Pandemic.  We appreciate that he lends his experience and expertise to the board and finance committee, while chairing the golf tournament, and volunteering at basketball camp.  We are thankful for his continued support of the board, staff, and CARE's mission of improving the lives of children of all abilities."
The CARE Board also honored the following employees who have reached milestone years of service at the organization: Kimberly Engstrom, M.Ed., preschool director, 20 years of service; Tina M. Martin, executive director, 20 years of service, including 16 years as executive director; Ashley Carlson, MOT, OTR/L, pediatric therapy services director, 15 years; Ann Kane, PT, physical therapist, 10 years; Melanie Buchanan, B.S., COTA/L, occupational therapy assistant and special instructor, 10 years; Alexis Close, M.Ed., preschool teacher, 10 years; and Staci McCord, administrative assistant, 5 years.
 "Milestone years of service are an important mark of our employees' dedication to CARE for Children and its mission to improve the lives of children of all abilities," said Martin.  "We are grateful to have a compassionate, professional, committed staff."
Staff members Dana Pence, PT and Lauren Warmath, DPT made a presentation, specially recognizing Ann Kane, PT, who plans to retire on June 30th.  Kane has worked as a physical therapist for CARE since 2012, providing Early Intervention and school-based therapy services.  She has been a physical therapist for over 40 years.  The presentation concluded with a video presentation highlighting photos and videos from Kane's tenure at CARE.
Photo Caption: CARE for Children held a Board and Staff Appreciation Luncheon at the Pennhills Club on Wednesday.  The CARE Board of Directors honored past Board Member James Macfarlane with the Community CARE Volunteer Award.  Immediate Past President Norm Strotman was also recognized for his contributions during his four-year term as president. Pictured from left to right; Joseph Yaros, board treasurer; James Macfarlane, honoree, Tyler Hannah, board president, Norm Strotman, board member, and Tina M. Martin, executive director.