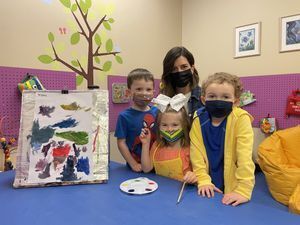 CARE for Children Rainbow Corner Preschool is celebrating its young learners during The Week of the Young Child this week.
The week is highlighted by fun, themed days, that reinforce the curriculum and PA Early Learning Standards, with hands-on, collaborative activities encouraging movement and healthy lifestyles through music, food, and art. 
Musical guest and guitarist Jim Ronan visited the preschool on "Music Monday;" students enjoyed made-to-order tacos for snack on "Tasty Tuesday;" team activities, including a game of giant Jenga, were the highlight on "Work Together Wednesday;" and the preschoolers created a variety of art projects using different materials on "Artsy Thursday."  "Fun Friday" will round out the themed days for the week.
The Week of the Young Child, an annual celebration sponsored by the National Association for the Education of Young Children (NAEYC), focuses public attention on the needs of young children and their families and recognizes the early childhood programs and services that meet those needs. 
Rainbow Corner Preschool is part of CARE for Children.  For more information on Rainbow Corner or CARE for Children, visit www.careforchildren.info.
Photo Caption:  From left, CARE for Children Rainbow Corner Preschool students Trey Cannon, age 4; McKenna Thomas, age 4; and Liam Bell, age 4 are pictured with Alexis Close, M.Ed., preschool teacher, during "Artsy Thursday", one of the themed days for Week of the Young Child, an annual celebration of early learning and young children.  Children develop creativity, social skills and fine motor skills with open-ended art projects where they can make choices, use their imaginations, and create with their hands.  Cannon is the son of Kevin and Morgan Cannon of Bradford, Thomas is the daughter of Taylor Thomas and Kristen Sisler of Bradford, and Bell is the son of Andy and Heather Bell of Bradford.